Fighting Fear in Russia and Beyond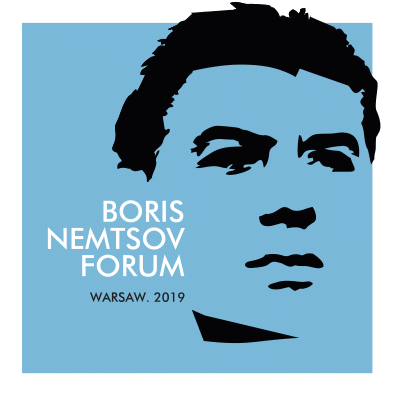 Forum Program
October 9
1 p.m.
Registration
Foye, 2nd floor
2 – 3 p.m.
Opening
Zhanna Nemtsova, Boris Nemtsov Foundation
Julius von Freytag-Loringhoven, Friedrich Naumann Foundation
Anastasia Sergeeva, WOT Foundation
Jacek Czaputowicz, Minister for Foreign Affairs, Poland
Cornelius Ochmann, Foundation for Polish-German Cooperation
Ernest Wyciszkiewicz, Centre for Polish-Russian Dialogue and Understanding
Jason Rheinberg, Deputy Head of Mission, British Embassy to Poland
3 – 3:30 p.m.
Freedom Speech
prof. Francis Fukuyama, Stanford University
3:30 – 5 p.m.
Discussion
Alexey Navalny, politician
prof. Francis Fukuyama,
moderator Zhanna Nemtsova
5:15 – 6:30 p.m.
Plenary Session
"Fear, corruption and propaganda vs. liberal democracy"
Moderator: Julius von Freytag-Loringhoven, Friedrich Naumann Foundation
Panelists:
prof. Sergei Guriev, Sciences Po, Paris
Sabine Leutheusser-Schnarrenberger, Friedrich Naumann Foundation
Katarzyna Pisarska, European Academy of Diplomacy
6:45 – 8:30 p.m.
Cultural program
Teatr.doc
"Tolstoy and Stolypin: private correspondence", Director Vladimir Mirzoev
October 10
>
10 – 11 a.m.
Plenary Session
Paweł Rabiej, Deputy Mayor of Warsaw
Adam Michnik, Editor-in-Chief "Gazeta Wyborcza"
11:30 – 12:45 p.m.
Session 1
"Governance of fear – where is Russia heading?"
Moderator: Sergey Aleksashenko, Boris Nemtsov Foundation
Panelists:
Sven Gerst, King's College London
Vladimir Kara-Murza, Boris Nemtsov Foundation
Nikolai Petrov, Chatham House, UK
Paulina Siegień, Gazeta Wyborcza, Gdańsk
Session 2
"Fear of war – What role civil society can play in conflict resolution?"
Moderator: Beate Apelt, Friedrich Naumann Foundation Panelists:
Alisa Ganieva, writer
Svitlana Khutka, Research Centre "Social Indicators", Kyiv
Oleksandra Matviichuk, Civil Liberties Union, Ukraine
Ilia Novikov, lawyer
Daniel Szeligowski, Polish Institute of International Affairs
Session 3
"Fear of little impact – experience from local governance"
Moderator: Fedor Krasheninnikow, journalist
Panelists:
Yulia Galiamina, Moscow municipal deputy
Mateusz Klinowski, Jagiellonian University, Cracow
Alexey Petrov, publicist, civic activist, Russia
Małgorzata Samusjew, Association of Local Governments, Baltic Euroregion
Katharina Schreiner, Free Democratic Party, Germany
1:45 – 3:00 p.m.
Session 4
"The Internet in Russia – Fear of freedom of speech"
Moderator: Alexey Sidorenko, Teplitsa of Social Technologies
Panelists:
Sergey Boyko, Society for Internet Protection, Novosibirsk
Sarkis Darbinyan, Roskomsvoboda, Russia
Bernd Schloemer, Free Democratic Party, Germany
Roman Zacharov, Glasnost Protection Foundation
Session 5
"Fearing Russia – What should Europe do?"
Moderator: Jerzy Pomianowski, ambassador, European Endowment for Democracy
Panelists:
Daniel Fried, ambassador
Maria Philimore Slonim, journalist
Gulnaz Sharafutdinova, King's College, Institute of Russia, UK
Marek Tatała, FOR Foundation Poland
Session 6
"Free or fear – values in Russian society"
Moderator: Vasily Gatov, media-analyst
Panelists:
Alexander Goerlach, saveliberaldemocracy.com
Anna Narinskaya, journalist
Peter Pomerantsev, London School of Economics and Political Science, Arena Initiative
Jadwiga Rogoża, Centre for Eastern Studies, Poland
Greg Yudin, Moscow School of Social and Economic Sciences
3:15 – 4:30 p.m.
Session 7
"Art and fear" Moderator: Aleksander Gavrilov, journalist, critic
Panelists:
Vladimir Mirzoev, film and theatre director
Marek Radziwon, Warsaw University
Christina Steinbrecher-Pfandt, art curator and director
Session 8
"Energy as political instrument of fear"
Moderator: Ernest Wyciszkiewicz, Centre for Polish-Russian Dialogue and Understanding
Panelists:
Sergey Aleksashenko
Agata Łoskot-Strachota, Centre for Eastern Studies
Vladimir Milov, economist
Session 9
"Fear of unmaking national myths"
Moderator: Maria Przełomiec, Studio "Wschód" TVP
Panelists:
Łukasz Adamski, Centre for Polish-Russian Dialogue and Understanding
Ivan Kurilla, European University in Saint-Petersburg
Yana Prymachenko, Institute of History of Ukraine
Marek Prihoda, Charles University, Czech Republic
5 – 6:30 p.m.
Plenary Session
Conclusions: panel sessions and Forum
Moderator: Vladimir Kara-Murza, Boris Nemtsov Foundation
Organizers:
Boris Nemtsov Foundation for Freedom, Germany
Friedrich Naumann Foundation for Freedom, Germany
WOT Foundation, Poland
With the support of:
Ministry of Foreign Affairs of the Republic of Poland, Program Public Diplomacy 2019
British Embassy in the Republic of Poland
Foundation for Polish-German Cooperation
Center for Polish-Russian Dialogue and Understanding
Embassy of the Czech Republic in Poland
Free Russia Association, Poland
Working languages: Russian, English, Polish. The Forum will be broadcasted online on the YouTube channel Boris Nemtsov Foundation.
More information and materials: freerussia.eu and nemtsovfund.org.
Questions: [email protected]