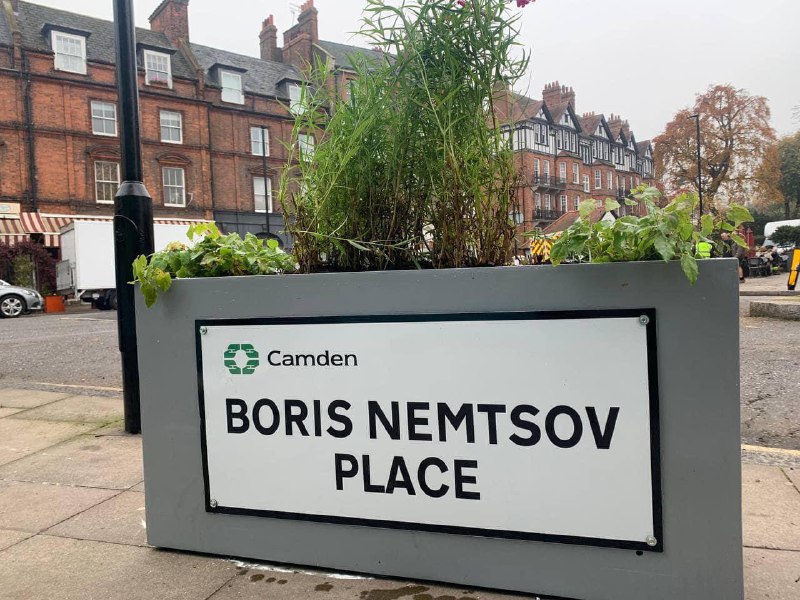 Today Camden Council named a junction in Highgate 'Boris Nemtsov Place' – after the assassinated politician who spoke out against Vladimir Putin.
Zhanna Nemtsova's speech was read at the opening of the street.
«On behalf of my family, I'm deeply grateful to the Council of Camden and its leader Georgia Gould for taking the decision to rename a junction in London in honour of my father. I am also thankful to Vladimir Kara-Murza who came up with the idea and worked hard to make it happen. He is now in jail in Russia because of his anti-war position and, unfortunately, cannot attend today's unveiling ceremony.
Alexei Navalny and Ilya Yashin, most powerful opposition politicians are not present today as well because they are jailed. They both knew my father and allied with him. I want to highlight that Alexei Navalny is being tortured in prison: not only that he serves his prison term in a maximum security penal colony, but he is regularly placed in solitary confinement.  It is a symbolic move to show solidarity with the Russian opposition, but also it'll be a place for the Russian exiled community where they can gather to protest Putin's regime, a dictatorship that continues its brutal, bloody and senseless war in Ukraine, destroying civilian infrastructure across the country and killing thousands of people. This war also destroys Russia and will have further devastating consequences for the country. 
More than 7 years have passed since my father's  assassination, one of the most high-profile political murders in Russia, that up to this day hasn't been not properly investigated.  Boris Nemtsov represents another Russia. He remains one of the most powerful voices because he understood Putin's plans early. My father predicted a full-scale war and organized anti-war marches in Moscow in 2014. He was actually organizing another anti-war protest in February 2015 but he was killed. His speeches and interviews are still going viral garnering millions of views, and I am not exaggerating. He is a political prophet who predicted what is happening now as early as 2007 and 2008. Regrettably, very few people in Russia and foreign counties listened to him.  His legacy is an important reminder that politicians should be courageous to say and do things that are not always in line with the voters' expectations to avoid what we are witnessing now.  It is a reminder that appeasement policy doesn't not always secure peace and stability, but instead is seen as a sign of weakness by autocrats and can even embolden them.  I hope I'll be able to travel to London any time soon to visit the place named after my father».