One of the main goals of the Boris Nemtsov Foundation is to create a global community of people who share ideas of the importance of the freedom of expression, the unacceptability of political repression and any human rights violation. Today this community unites hundreds of people all over the world: these are journalists, lawyers, researches, teachers, interpreters, activists, and scientists. Now we are meeting an alumnus of the Summer School 2019, which took place this summer in Prague. Anastasia has created a multimedia project about the surviving victims of the Beslan tragedy. We talked with her about the most difficult part of the project, about immigration to Great Britain and freedom.
About herself
I have always been interested in journalism and writing. While I was going to school in Oxford, I started writing for Marie Claire and Cosmopolitan Russia. I was about to turn 18 at that time and I was trying to find myself in journalism. As a result, I worked there for several years.
In July, I graduated from the University of Kent with a bachelor's degree in Multimedia Journalism. During these 3 years, I managed to do an internship on local radio and television, write hundreds of news articles and features, create a small media with my classmates, work in a newspaper in Sheerness, a small town in north Kent. We were always given motivation to work – driving around the island, shooting, recording, editing, creating layouts for newspapers and building websites. By the end of our studies, we all became more than well-rounded in the craft of journalism.

At the same time, I studied additional modules that included history, investigative journalism, politics and conflict reporting. Most of my projects and research were focused on Russia: I analyzed methods for verifying video and working with data at the time of the armed conflict in Eastern Ukraine, wrote about the Chechen war, and examined Russian military intervention in Syria. For my graduation project, I produced a documentary about Russians living in the UK in the context of strained Russo-British relations and stereotypes about the image of a Russian person in Great Britain.
Along with studying and freelancing, I worked in SMM. Now I am still doing some freelance writing and planning to move to Europe. The immigration situation in Britain has worsened – getting a work visa is quite difficult due to a number of political and economic problems that the UK has faced over the past few years.
About the most important project
The most important project for me is the project dedicated to the 15th anniversary of the Beslan school siege, which I worked on after I participated in the Summer School. I was 7 years old in September 2004. At the time, my parents couldn't stop watching TV. It was hard to believe in what was happening, so they've been constantly calling our friends and relatives who lived in Vladikavkaz. Meanwhile, I had a gut feeling that there is a living hell in my home region of Ossetia. Since then, the first days of September have always been difficult for my family.
I have long wanted to write about the Beslan tragedy – it is very personal for me. I am an Ossetian. Before moving to the UK, I spent every summer in Ossetia: a couple of months with my aunt in Vladikavkaz, and then a month with my grandmother in Tskhinval. My parents raised me according to Ossetian traditions, and even though I was born in Moscow, I never forget my roots.


The memory of Beslan is fading away over time. 15 Years is a long time, and it is easier for people to close their eyes, live in the present. When I pitched the idea of ​​my project, I was told that enough was already said and written about Beslan, that it was not worth it. But all of us, like our country, live in the shade of Beslan. The consequences of this tragedy are too great to be forgotten. Talking about it is the least we can do for those who died and survived.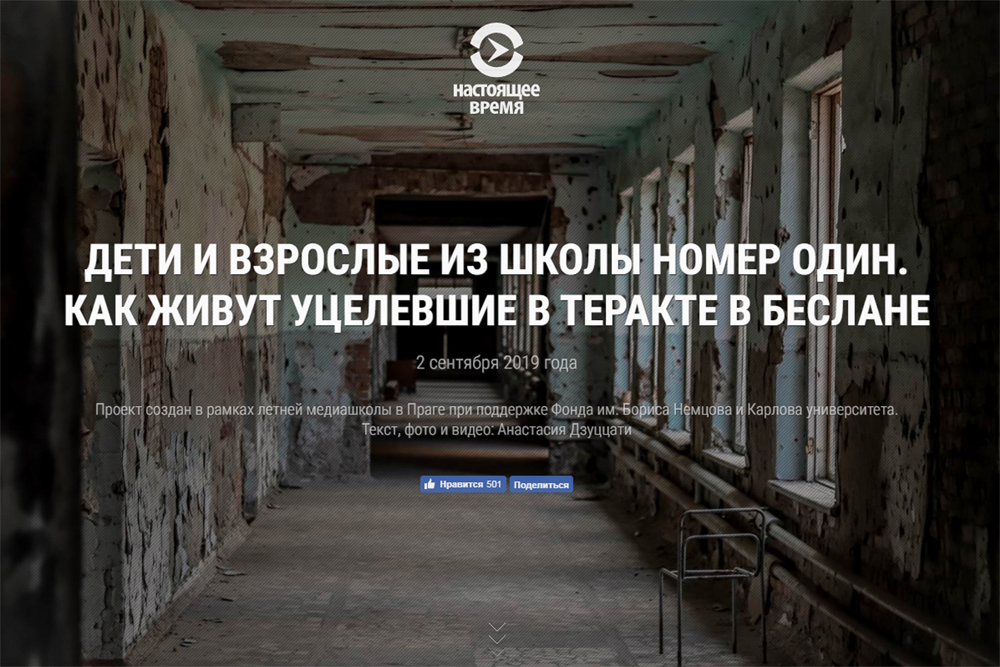 About the making of the Beslan project
I can't say that I was scared to go to Beslan. My first meeting took place in Vladikavkaz with Kambolat and Khetag. I chose my words carefully, but when I started talking with them, I realized that no preparation could help me deal with a lump in my throat. In fact, I was very lucky that they were my first interviewees. Together we visited the school number 1. They often joked, told funny stories from their childhood, were understanding when I burst into tears when I crossed the threshold of the school gym the first time.

On the same day, after filming in the school, I had an interview scheduled with a mother who had lost a child. I had almost no strength left, and Angela threw a pack of Validol into my bag – she said that I will need it again. In fact, every interview with survivors of a tragedy of this magnitude feels like the first.
About the audience's perception of tragic content
I think that life in Russia is already "tragic" enough, so people prefer to hide from the emotionally heavy content. "Tragic content" is generally difficult to read and digest.

I don't believe that there is any proper language to write about tragedy. When you are really inspired by your work, even clichés bypass you. I can say with certainty that no journalist should downplay the significance of certain events or stories so that it is easier for the reader to perceive the content.
About freedom
Freedom means speaking out loud, not whispering, as one sometimes has to do it in Moscow. My mother always reminds me that some things or ideas are not to be discussed out loud in Russia, as it might get you in trouble. Of course, I always tell her that nothing is going to happen. And she herself understands this well. However, the fear that thrives in people at a subconscious level puts a lot of pressure on all of us.
About immigration
I moved to Great Britain when I was 16 years old. It was not exactly deliberate immigration. I always wanted to study abroad. The relocation was mostly influenced by how I felt in Moscow: I couldn't fully open myself at school, had problems with classmates because of my nationality and had to graduate early.

In Britain, I had the cultural shock. I couldn't imagine that people can speak so comfortably about things that has been always considered taboo back home in Russia, accept you as you are, support your most absurd ideas and initiatives. I am very glad that I spent my "golden" teenage years abroad. It was in the UK where my core values ​​and ideas were formed.

I love Russia dearly, and I think that someday I could return to Moscow, but now it is much more interesting for me to stay abroad, where I feel like myself and I can grow professionally.
About the blog on Instagram
Since 2013, I had been blogging on Blogspot, where I posted my illustrations. The blog culture in Russia was just spreading, and I caught the wave. When the blogging phenomenon came to naught, Instagram appeared, and I switched to this platform, but my readers remained with me. Subsequently, the audience expanded due to my work in magazines, advertising campaigns, and cooperation with international publications and brands. Many readers found me through my illustrations, which were once posted on VKontakte public pages and Instagram art accounts.

From childhood antics, my blog grew into something meaningful, and I always understood its value, worked on important social campaigns in the UK. I supported some charity programs, Transport for London and National Express projects, collaborated with Public Health England of the UK Department of Health, and was an ambassador of their Protect Against STIs initiative. I worked with teenagers and spread a word about STDs prevention in England.

A few months ago, I left Instagram for a while – I decided to focus on journalism and rethink my presence online. You can't surprise anyone with a well-staged picture anymore. Sometimes, in the context of modern reality, this even seems inappropriate. Soon I am going to revive my blog and focus on my current social activities and issues that I care about.
About the Summer School
Throughout the Summer School, I immersed myself in Russian journalism. During the years of studying and working abroad, I managed to forget how the media industry operates in Russia: what is valued and what is avoided. It was quite of an experience. It was especially enjoyable to attend the lectures by those journalists and scientists, whose work I have been following for years. I am very grateful to the Nemtsov Foundation for this unique opportunity.
Favourite quotes
About 2 years ago, I happened to interview British illustrator Ralph Steadman, who worked (and was friends) with gonzo journalist Hunter S. Thompson. He is known for his political caricatures, including portraits of Richard Nixon for Rolling Stone in the wake of the Watergate scandal in 1973.

Ralph talked for a long time about his work, a little about British democracy and its uniqueness, which is dissolving in a conflict of interests over Brexit, and when I asked him what motivated him to create, the artist gave me this simple, but important thought:

"A sense of curiosity: there is a white sheet of paper and nothing on it, until I make a mark. There are so many more people in this world who are developing ideas. Young people who have testosterone and all that energy flowing, and they don't know where to put it. And then it turns to violence. That's sadness. They are not using their creativity. They are not thinking of things in a funny way, in a genius way".

Now I am always reminding myself to think "in a genius way" and be curious. Life becomes much more interesting if you perceive it as a white sheet of paper and you need to make your mark.
Translated by Valeriia Liberman.