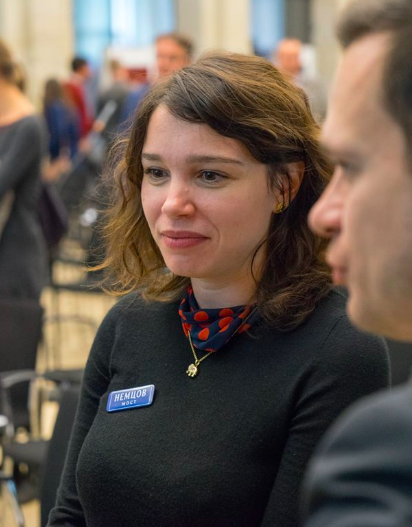 The initiative to designate the block in front of the Russian Embassy as Boris Nemtsov Plaza was blocked in US Congress but it can be still adopted by The Council of the District of Columbia. The voting will be held on December, 19.
"Chairman Mendelson, Members of the Council, thank you for the opportunity to testify here today and for your support of the initiative to designate the block in front of the Russian Embassy as Boris Nemtsov Plaza.
I speak today on behalf of my family, but also on behalf of all those who struggle to commemorate my father and his political legacy in Russia.
For more than 1,000 days now—whether it is cold, hot, snowy or rainy—a small group of volunteers has guarded a makeshift memorial made of flowers, portraits and candles for my father, Boris Nemtsov, on Bolshoi Moskvoretsky Bridge, on the spot where he was killed. Many people now refer to this bridge as Nemtsov Bridge. They even created a symbol, which I brought with me today (a badge "Nemtsov Bridge" styled as street signs in Moscow).
However, the Moscow Bridges Maintenance Authority and the pro-Kremlin nationalist movement SERB—presumably on the orders of high-ranking Russian officials—have dismantled the memorial more than 70 times. Small plaques commemorating my father that were placed on two apartment buildings—in the city of Yaroslavl, where he served in the regional parliament, and in Moscow—were also dismantled. Both of these initiatives were not ours, but of the people who live in these buildings. In Nizhny Novgorod, where my father was governor, the city authorities, in the end, did not dare to place a plaque.
The current Russian political regime wants to eradicate the memory of my father, since it believes—correctly—that symbols are important and can potentially facilitate and inspire change. This explains the nervous reaction from the Russian Foreign Ministry when they first heard of the Washington D.C. initiative.
Symbols are important. In today's Russia, where politics is dominated by isolationism and an archaic mindset, the symbols of openness, a global-thinking democratic approach, and market reforms are much needed. My father was an open-minded patriot of Russia, who was willing to reform the country; an optimist and a fearless achiever. I think that my father is a politician of global significance, and that we need to commemorate him. For now, we cannot do it in Russia because of unprecedented resistance, but we have a chance to do it here. And here, it will be difficult to dismantle.
I would like to take this opportunity to thank all the volunteers who look after the makeshift memorial in Moscow, and all courageous people who support the movement to commemorate my father.
I express my profound gratitude to Members of the D.C. Council, and I express hope that you will vote to support this initiative".
Zhanna Nemtsova.